NIH clinical trial of universal flu vaccine candidate begins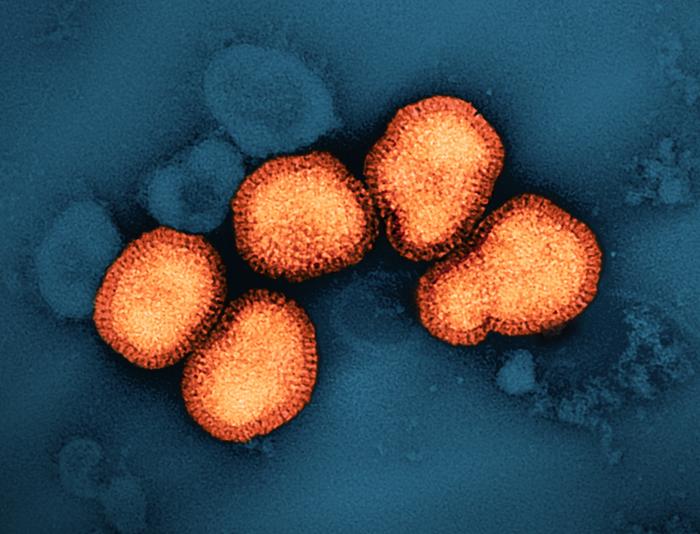 Enrollment in a Phase 1 trial of a new investigational universal influenza vaccine candidate has begun at the National Institutes of Health's Clinical Center in Bethesda, Maryland. The trial is sponsored by the National Institute of Allergy and Infectious Diseases (NIAID), part of the NIH, and will evaluate the investigational vaccine for safety and its ability to elicit an immune response. The vaccine candidate under investigation, FluMos-v2, was designed by researchers at NIAID's Vaccine Research Center (VRC). It is an adaptation of an earlier universal flu vaccine candidate, FluMos-v1, which began first-in-human testing in 2021 and is still undergoing trials.
FluMos-v2 is designed to induce antibodies against many different influenza virus strains by displaying part of the influenza virus hemagglutinin (HA) protein in repeating patterns on self-assembling nanoparticle scaffolds. Exposure to these harmless fragments of virus proteins prepares the immune system to recognize and fight the actual virus. When tested in animals, the experimental vaccine resulted in robust antibody responses.
While the FluMos-v1 vaccine candidate displays HA from four strains of influenza virus, FluMos-v2 displays HA from six: four influenza A viruses (H1: A/Idaho/07/2018,H2: A/Singapore/1/1957, H3: A/Perth/1008/2019, H3: A/Darwin/106/2020) and two influenza B viruses (B/Victoria lineage: B/Colorado/06/2017, B/Yamagata lineage: B/Phuket/3073/2013) . The researchers anticipate that this will further broaden vaccine recipients' immunity, providing protection against a wider variety of influenza viruses.
The new clinical trial is expected to enroll 24 healthy volunteers, aged 18-50 years, who will receive two intramuscular injections of the FluMos-v2 vaccine candidate. These injections will be given 16 weeks apart. At first, participants will be enrolled in the lower dose group (60 mcg per vaccination). If no safety concerns are identified after at least three participants have received this dose, enrollment will begin in the higher dose (180 mcg per vaccination) group. The study team plans to enroll 12 participants into each dosage group.
16/09/2023
---
---